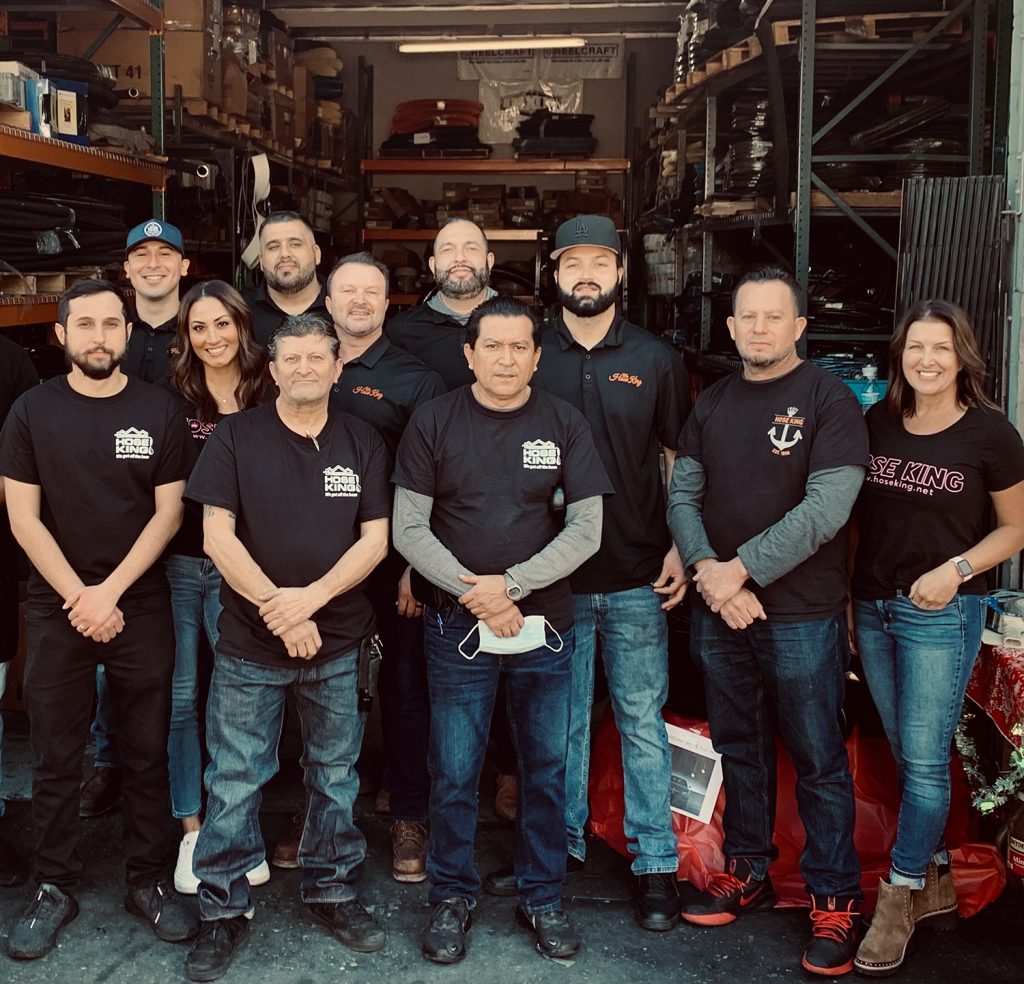 Our Story
Commerce Hose & Industrial Products, formerly known as "Hose King", has been a family owned business for over 60 years.
We provide high quality hoses and industrial products to consumers and businesses of all sizes.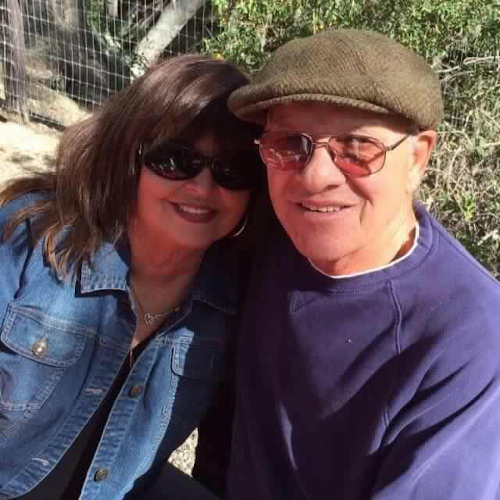 Bonnie & Dennis Bethel, Retired
The Original Hose Queen and King
These hardworking lovebirds are enjoying their time away from the warehouse. Their retirement years have been filled with celebrating their grandchildren's accomplishments and great-grandchild's first moments.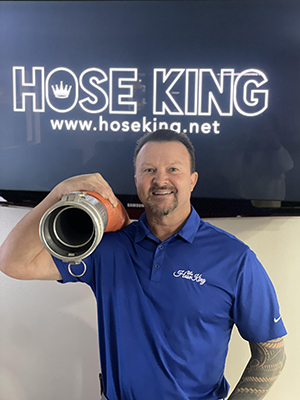 Jason Bethel, President / CEO
Head Honcho, Hose King Regent, & Part-Time Instagram Model
Jason has been working at Commerce Hose & Industrial Products since he was a teenager. He has learned every step of the business, developed strong relationships with suppliers and customers and has taken over the Hose King thrown, allowing Dennis Bethel to enjoy his retirement years.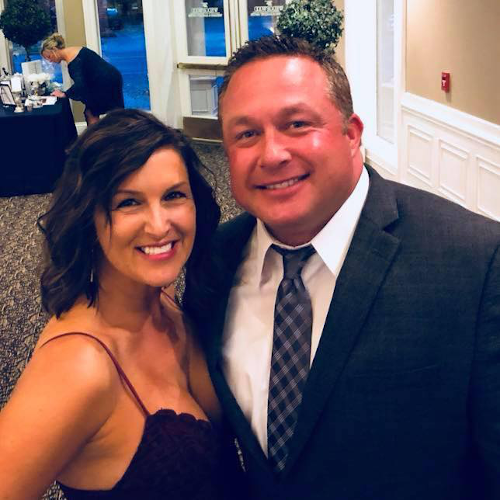 Jennifer Bethel Ganalon, CFO
Head of Chaos Management & Number Cruncher
Jennifer, daughter of Bonnie & Dennis, grew up in the Hose Castle with her brother Jason. Her duties around the office and warehouse are endless! Jennifer wears many hats at Commerce Hose, but her favorite job is at home as Mom.
Shannon Bethel, Marketing & Communications
Countess of Communications, Director of Warehouse Fun
Shannon, Wife of Jason, started as a Part-Time Accounts Receivable clerk and quickly transitioned into her current Full-Time position as Master Communicator. She loves working with her Husband and Sister-In-Law but her favorite full-time role is "Glammy".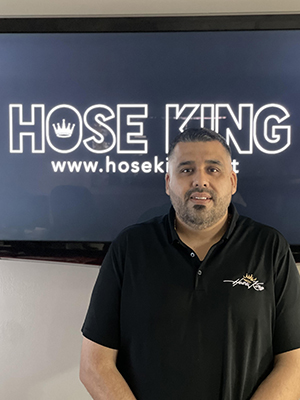 Frank Rubio, General Manager
Senor Pancho, Linguistic Specialist, & Master of Operations
Frank has been instrumental in growing the business since he came onboard with Commerce Hose. His Bilingual background allows us to serve both Spanish-speaking business owners and customers.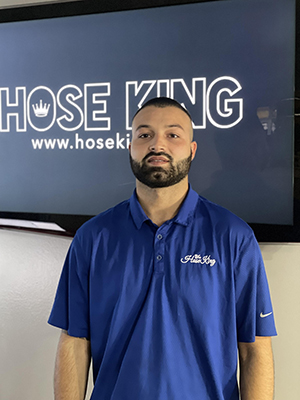 Seth Bethel, Inside Sales
King in the Making
Seth is our "King in the Making", the heir apparent to the Hose King throne as he is the son of the current reigning leader – Jason. As he prepares for his rise in stature, he is working his hardest every day (that's his motto) in Inside Sales but if you do lose track of him, he's probably watching sports or he's at the beach surfing – which is fair – all great leaders subscribe to a good work/life balance.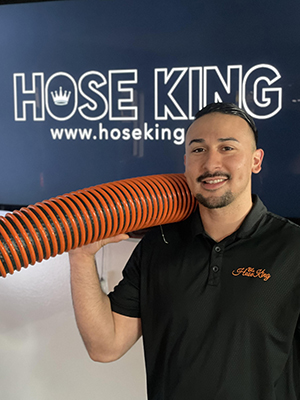 Christian Contreras, Outside Sales
Executive Sales Engineer & In-House Hunk
When you call into Commerce Hose, Chris is usually answering your call. If you can define your project, Chris can help you find the right components or products at the best available price. We don't know a lot about him outside of work. We think he may be a secret agent or something, you know like Inspector Gadget? It would make sense.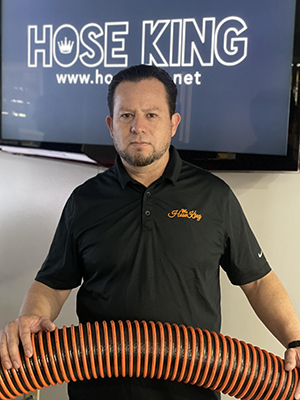 Enrique Alcala Jaramillo, Warehouse Manager

Enrique is our quiet giant in the warehouse and talented hose technician who thrives to improve himself and his craft every day. Enrique is a hydraulic wizard. Outside of the workplace, Enrique enjoys shooting hoops on the basketball court. We bet he can beat you at a quick game of H-Y-D-R-A-U-L-I-C-S.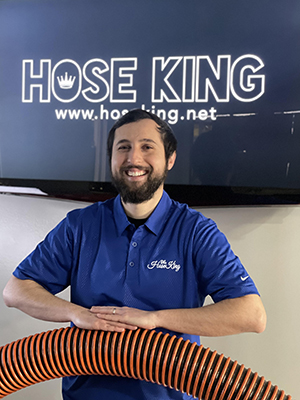 Josh Gonzalez, Purchasing Manger / Inside Sales

Josh is like a human gear with a bear spirit. He is an "integral part" of our Purchasing, Inventory, and Sales. He has an "iron will" to get the job done and get it done right. And when he isn't being an absolute beast in the workplace, you can often catch him hibernating for long hours with his cat or learning all there is to know about a subject on Wikipedia.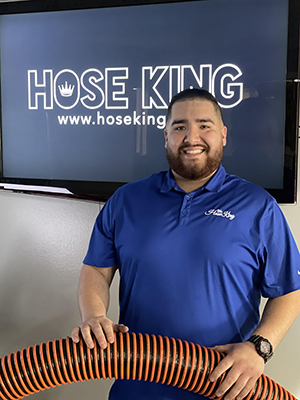 Abran Sanchez, Logistics Lead

Abran (Abram, Abraham… he answers to almost anything) and is one of our resident Hose Technicians and an avid sports fan who brings just as much passion to the workplace as he does with the Dodgers and the Cowboys! He is bilingual and provides great customer service. To Abran, life is to be lived fully, and he enjoys doing so off-road or on horseback.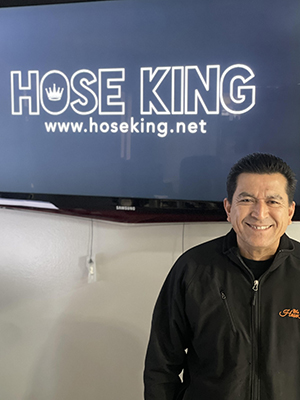 Pedro Barajas Saenz, Receiving Specialist / Inventory Mgr.
Maestro of Mayhem & Delivery Warrior
Pedro has been a loyal employee of Commerce Hose since 2005. He is a quiet man who's brain works faster than a calculator in a labyrinth. He keeps our warehouse organized and ensures our On-Time Delivery Percentage is higher than Amazon Prime's. Not all heroes wear capes, some wear Hose King shirts.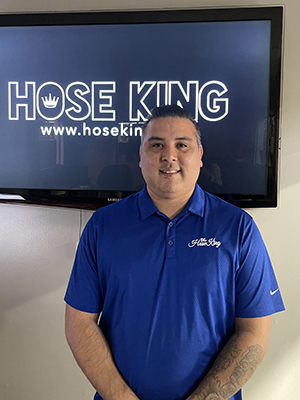 Oscar Hernandez, Counter Sales Lead

Oscar is one of our incredible Inside Sales / Counter Sales guys. He is a man of few words, and he is very creative with a talent for graphic design, embroidery, and mouth-watering BBQ . He lives by the "5P motto" – Proper Planning Prevents Poor Performance – definitely the guy you want on your team. On his days off, you can find him spending time with his kids (and planning something).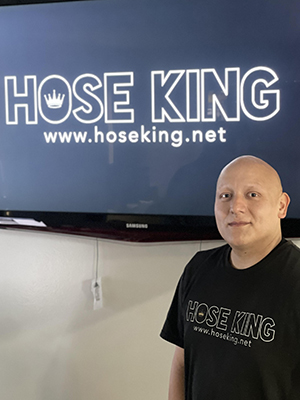 Jonathan Magallanez – Counter Sales Associate

His name is John but his friends call him Fish. We're not sure why but we think it's because he can "fin-agle" his way through road construction and blockades to make any pickup or delivery happen. John's also an enthusiastic hosemaker apprentice with a talent for computer components, cooking and card games. (Go Fish, maybe?)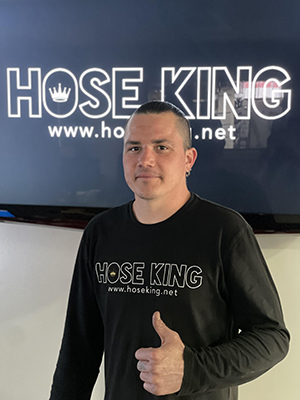 Tanner Thrall – Delivery / Counter Sales

Tanner, also affectionally known as Tan-Man, is our pro at timely deliveries and pickups. He also assists around the shop, helping with whatever needs assistance. You can often find Tan-Man around the shop, gleefully drumming on empty containers – Only time will tell if he one day plays alongside his favorite bands!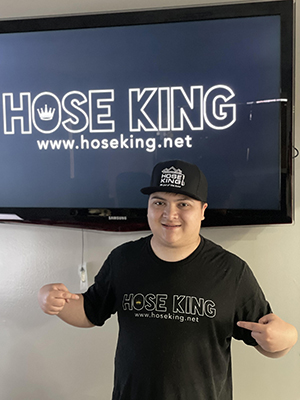 Miles Ganalon – Office Clerk

What can we say about Miles aka Mizey that hasn't already been said? We've known him literally since the day he was born. He loves the family business and just generally helps us keep things running smoothly doing office tasks, helping in the warehouse and keeping the place clean. Now you may find him singing into a hose end because he is a performer with a local band and he'd probably rather be on a stage somewhere but for now he's here early every day because he believes "Early is on time and on time is late!"